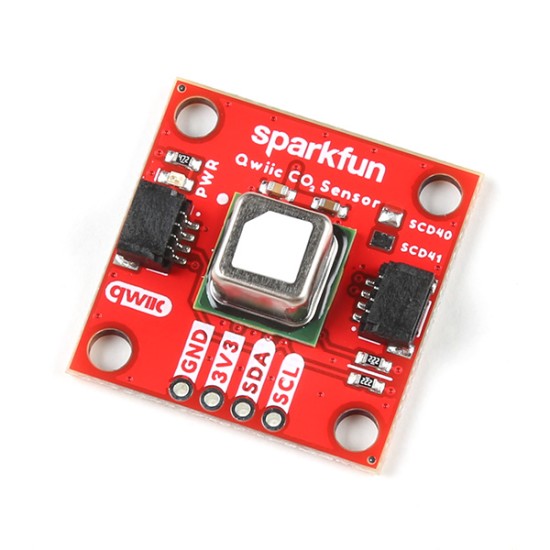 New
SparkFun CO₂ Humidity and Temperature Sensor - SCD40 (Qwiic)
Description: This SparkFun CO2 Humidity and Temperature Sensor features the next-generation SCD40 photoacoustic CO2 sensor for high-accuracy environmental readings. The SCD40 uses Sensirion's PASens® photoacoustic measurement system that combines narrow-band IR light and a microphone inside the sensing package capable of detecting concentrations from 0 to 40000 ppm with high accuracy over 400-2000 ppm ±(50 ppm+5%). The SCD40 has an integrated temperature and humidity CMos® sensor to improve accuracy. For additional accuracy, the SCD40 also accepts ambient pressure readings! All this functionality comes in our standard 1in. x 1in. Qwiic form factor and will seamlessly integrate into your Qwiic-based projects. However, we still routed the I2C signals out to a set of 0.1in.-spaced pins for users who prefer a soldered connection.
The SCD40 includes an automatic self-calibration routine to automatically adjust to its sensing environment over a seven-day calibration period. For best results, Sensirion recommends taking continuous readings for at least one hour a day of 'fresh air' for the calibration period to complete.
We've written an Arduino library to make reading the CO₂, humidity, and temperature very easy. It can be downloaded through the Arduino Library manager: search for 'SparkFun SCD4x', or it can be found in the Documents tab above.
The SparkFun Qwiic Connect System is an ecosystem of I2C sensors, actuators, shields and cables that make prototyping faster and less prone to error. All Qwiic-enabled boards use a common 1mm pitch, 4-pin JST connector. This reduces the amount of required PCB space, and polarized connections mean you can't hook it up wrong.
Features:
I2C Interface (Qwiic-enabled)

I2C Address: 0x62
2x Qwiic Connectors

Supply Voltage Range: 2.4-5.5V (3.3V Typ.)
Low Current Consumption:

Normal Mode:

Max: 205mA@3.3V
Typ: 18mA@3.3V

Low Power Mode:
Single-Shot:

Photoacoustic Measurement System

Sensirion's PASens Technology

Integrated Temperature and Humidity Sensor

Sensirion's CMOSens Technology

CO2 Output Range: 0-40,000ppm
CO2 Measurement Accuracy: ±(50ppm + 5% of reading)
Humidity Range: 0-100%RH
Humidity Accuracy: ±9%RH (Full Range)
Temperature Range: -10°C-60°C
Temperature Accuracy: ±1.5 (Full Range)
Documentation: Here
Hookup Guide: Here


Stock:

1

Brand: Sparkfun
Model:

SEN22395