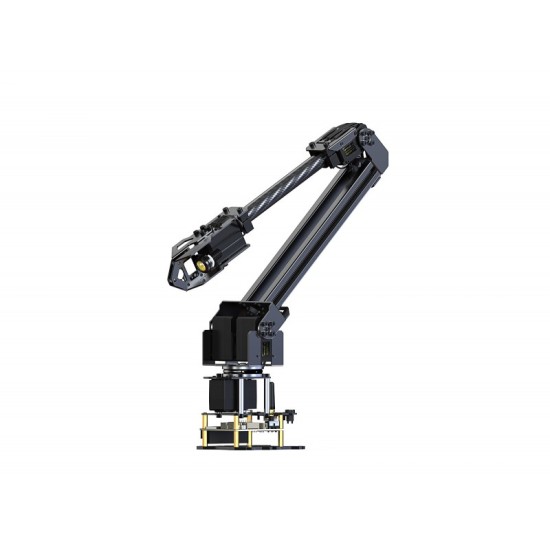 New
RoArm-M2-S Desktop Robotic Arm Kit, Based On ESP32, 4-DOF
Description: High-torque Serial Bus Servo, Desktop Robotic Arm Kit, Based On ESP32, 4-DOF, Supports Flexible Expansion And Secondary Development, Wireless Control.
RoArm-M2-S is a 4DOF smart robotic arm designed for innovative applications. Adopts lightweight structure design with a total weight of less than 850g and the effective payload of 0.5kg@0.5m, it can be flexibly mounted on various mobile platforms. Adopts a 360°omnidirectional base combined with three flexible joints to create an workspace with a 1-meter diameter.
The joint direct-drive design enhances repositioning precision and also improves structural reliability, with innovative dual-drive technology doubles the shoulder joint torque. Onboard ESP32 MCU main control module supports multiple wireless control modes, provides control interfaces and rich communication protocols for easily connecting to various devices.
Provides a user-friendly and cross-platform WEB application that integrates a simple and visualized coordinate control mode, making it easier to get started. Comes with rich graphic and video tutorials to help you learn and use it quickly. Compatible with ROS2 and various host computers, supports various wireless and wired communication modes. Comes with an expansion plate, supports customizing the EoAT (End of Arm Tooling) to meet innovative application requirements.
RoArm-M2-S achieves an excellent balance between lightweight, user-friendliness, expandability, and open innovation, it is a multifunctional robotic arm that integrates intelligent control, human-machine interaction, and customizable development. Ideal for applications that require a combination of flexibility, expandability, and user-friendliness
Specifications:
DOF: 4
Load capacity: 0.5Kg @ 0.5m
Weight: 826g +-15g
Operating diameter: 1090mm
Base Rotation Angle: 360
Main Control Module: ESP32
Source Code: Completely Open Source
Communication Method: WiFi/ESP-NOW/UART
WIKI: Here

Stock:

Pre-Order

Brand: Waveshare
Model:

W25974