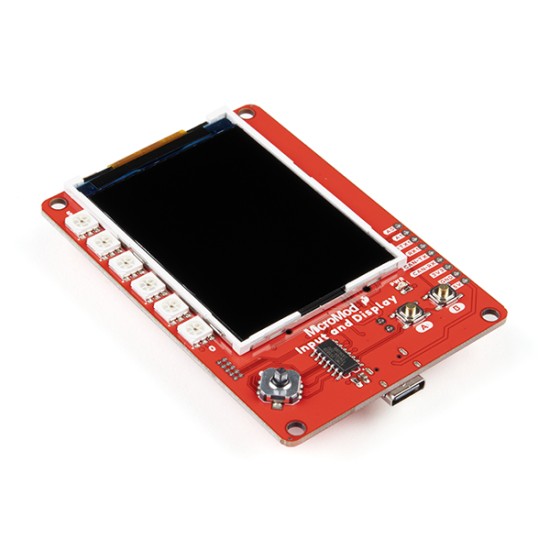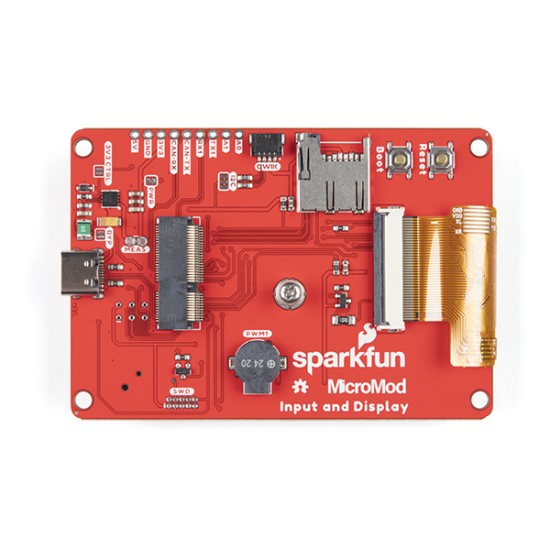 New

SparkFun MicroMod Input and Display Carrier Board
Description: The SparkFun MicroMod Input and Display Carrier Board is a great way to add data and input visibility to your MicroMod project. Want to create your own embedded game? How about displaying data that is remotely collected and transmitted by your SparkFun MicroMod Weather Carrier Board and its processor? This is a great option.
This carrier board combines a 2.4" TFT display, six addressable LEDs, onboard voltage regulator, a 6-pin IO connector, and microSD slot with the M.2 pin connector slot so that it can be used with compatible processor boards in our MicroMod ecosystem. We've also populated this carrier board with Atmel's ATtiny84 with 8kb of programmable flash. This little guy is preprogrammed to communicate with the processor over I2C to read button presses.
MicroMod is a modular interface ecosystem that connects a microcontroller "processor board" to various "carrier board" peripherals. Utilizing the M.2 standard, the MicroMod standard is designed to easily swap out processors on the fly. Pair a specialized carrier board for the project you need with your choice of compatible processor!
Features:
M.2 MicroMod Connector
240 x 320 pixel, 2.4" TFT display
6 Addressable APA102 LEDs
Magnetic Buzzer
USB-C Connector
3.3V 1A Voltage Regulator
Qwiic Connector
Boot/Reset Buttons
RTC Backup Battery & Charge Circuit
microSD
Phillips #0 M2.5x3mm screw included
Documents:
MicroMod Input and Display Carrier Documentation:
MicroMod Documentation:
Stock:

3

Brand: Sparkfun
Model:

DEV16985