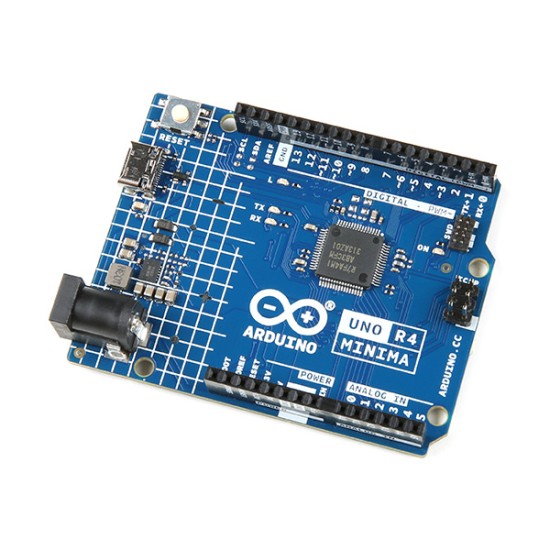 New
Arduino UNO R4 Minima
Description: Arduino empowers makers' creativity and passion for innovation with a robust new board that's perfect for all users, from beginners to experts – allowing anyone to easily connect to the internet and create IoT projects.
Your user-friendly, accessible UNO just took a quantum leap forward: Arduino UNO R4 is a 32-bit microprocessor offering more speed, memory, connectors and connectivity options than any version of the board before. Out of this world, and into the future.
Arduino's continued commitment to making technology accessible to everyone was the inspiration behind Arduino UNO R4 Minima: the new addition to the brand's community-supported ecosystem offers powerful technology at an affordable price. Packing more computational power, memory and speed in the familiar form factor of the UNO at 5V operating voltage, it allows users to easily upgrade projects made with the UNO R3 or the Leonardo. What's more, thanks to a RA4M1 microcontroller by Renesas, it can leverage two new off-the-shelf peripherals, CAN BUS and (12 bit) DAC: perfect for automation or audio projects.
Features:
Operating Voltage: 5V
Memory: 256KB Flash / 32KB SRAM
Input Voltage: 6-24V
Clock Speed: 48 MHz
Programming Port: USB-C
MCU: RA41M1 from Renesas (Cortex M4)
HID device (emulate a mouse or a keyboard)
Improved power section (up to 24V through VIN)
CAN bus
DAC (12 bits)
Op amp
Documents:
Stock:

8

Brand: Arduino
Model:

ABX00080