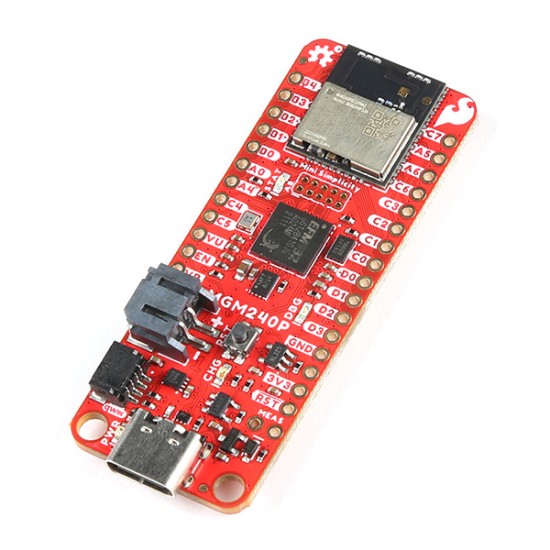 New
SparkFun Thing Plus Matter - MGM240P
Description: The SparkFun Thing Plus Matter is the first easily accessible board of its kind that combines Matter and SparkFun's Qwiic ecosystem for agile development and prototyping of Matter-based IoT devices. The MGM240P wireless module from Silicon Labs® provides secure connectivity for both 802.15.4 with Mesh communication (Thread) and Bluetooth® Low Energy 5.3 protocols. The module comes ready for integration into Silicon Labs' Matter IoT protocol for home automation. SparkFun's Thing Plus development boards are Feather-compatible and include a Qwiic connector for easy integration into our Qwiic Connect System for solderless I2C circuits.
What is Matter? Simply put, Matter allows for consistent operation between smart home devices and IoT platforms without an Internet connection, even from different providers. In doing so, Matter is able to communicate between major IoT ecosystems in order to create a single wireless protocol that is easy, reliable, and secure to use. The
Thing Plus Matter - MGM240P includes Qwiic and LiPo battery connectors, and multiple GPIO pins capable of complete multiplexing through software. The board also features the MCP73831 single-cell LiPo charger as well as the MAX17048 fuel gauge to charge and monitor a connected battery. Lastly, we've included a µSD card slot for any external memory needs.
The MGM240P wireless module is built around the EFR32MG24 Wireless SoC with a 32-bit ARM Cortext-M33 core processor running at 39 MHz with 1536 kb Flash memory and 256 kb RAM. The MGM240P works with common 802.15.4 wireless protocols (Matter®, Zigbee®, and OpenThread®) as well as Bluetooth® Low Energy 5.3. The MGM240P supports Silicon Labs' Secure Vault™ for Thread applications.
The SparkFun Qwiic Connect System is an ecosystem of I2C sensors, actuators, shields and cables that make prototyping faster and less prone to error. All Qwiic-enabled boards use a common 1mm pitch, 4-pin JST connector. This reduces the amount of required PCB space, and polarized connections mean you can't hook it up wrong.
Features:
MGM240P Wireless Module

Built around the EFR32MG24 Wireless SoC
32-bit ARM-M33 Core Processor (@39MHz)
1536kB Flash Memory
256kB RAM
Supports Multiple 802.15.4 Wireless Protocols (Zigbee and OpenThread)
Bluetooth Low Energy 5.3
Matter-ready
Secure Vault Support
Built-in Antenna

Thing Plus Form-Factor (Feather-compatible):

Dimensions: 2.30" x 0.9"
Two Mounting Holes:
Twenty One GPIO PTH Breakouts

All pins have complete multiplexing capability through software
SPI, I2C and UART interfaces mapped by default to labeled pins
Thirteen GPIO (Six labeled as Analog, seven labeled for GPIO)

All function as either GPIO or Analog

Built-in-Digital to Analog Converter (DAC)

USB-C Connector
2-Pin JST LiPo Battery Connector for a LiPo Battery (not included)
4-Pin JST Qwiic Connector
MC73831 Single-Cell LiPo Charger

Configurable charge rate (500mA Default, 100mA Alternate)

MAX17048 Single-Cell LiPo Fuel Gauge
µSD Card Slot
Low Power Consumption (15µA when MGM240P is in Low Power Mode)

LEDs:

PWR - Red Power LED
CHG - Yellow battery charging status LED
STAT - Blue status LED

Reset Button:

Physical push-button
Reset signal can be tied to A0 to enable use as a peripheral device
Documents
:
Stock:

3

Brand: Sparkfun
Model:

DEV20270